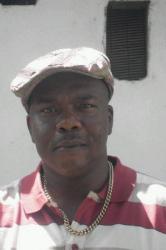 Originaire de : Jamaica/Kingston
Born "Hartley Anthony WALLACE" known in music as pad anthony music was always in my viens coming from a musical family.
my brothers were from a group called rags and riches who won the 1976 festival song competition entitled big heel boot and bellfoot pants with late and great freddie mckay.
I always loved music but never thougth i would get in the buisness but after moving to waterhouse thats when i started to get an interest.
I started singing on sound systems until i did an audition at the channel one recording studios which was run by joe joe hookim my first recording was two cover versions one by the late great alton ellis entitled blackmans world and ray charles entitled crying time my fisrt two hits were see them a come and champion bubbler on the sunset label of myrie and marshall .
They also produced half pints first hits songs like winsome and sally from then on i was picked up by the great king jammys and rest is history i continue to make good music recording for all kinds of producers from all over the world.
I am recognise other than johnny osbourne has the greatest dub makers in the dancehall any sound that does not have pad anthony as to be a new soundsystem or not cutting dubs the first place i performed out of jamaica was grand cayman and then i started to travel exclusively i migrated and lived in canada for 7 years there i formed a company called joint venture productions with a partner named patrick walford aka sluggie we put out several music under that umbrella and toured canada extensively it was a wonderfull experience from there i moved to the us where i lived with my mother and brothers did my own productions and hooked up with ed robinson and ran a studio in brooklyn toured the us extensively has well put out a bunch of music everything i own and achieve is through music the love of my life i must also mention i did a whole lot of work with bobby digital in fact i started bobby in the buisness i did songs like shake them dowm you make my day just to name a few i also worked with king tubbys my catalogue is large i am a pioneer of the reggae industry and proud to be a part of good music my latest endeavor is entitled the rhythm of my heart on greensleves/vp on itunes amazon and all internet stores you can reach me at hwpaddy2@gmail.com or padanthonyreggae@gmail.com or on facebook my contact numbers are 1876 934 2122 1876 446 5053 1876 310 1167 thanks to all dancehall and reggae supporters around the world and my japanese fanbase all real sound system owners keep the music playing non stop and all radio disc jockey who play music for what its worth and not for the payola jah bless dont forget the great ones before us like bob marley dennis emanuel brown junior delgado alton ellis jacob killer miller tenor saw just name a few last but not least born october 26 and have 7 children 1 girl 6 boys music for life.......